Japan's largest CBD tasting shop
GReEN STORE (actual store/main store)
The location is about 3 minutes on foot from Higashi-Nihonbashi Station on the Toei Asakusa Line, and the appearance of the shop is green as the name suggests.
* Click here for information on the opening of the Daikanyama store on February 1, 2023
Inside the store, there are a lot of foliage plants selected by the president who loves plants, and the number is increasing every day.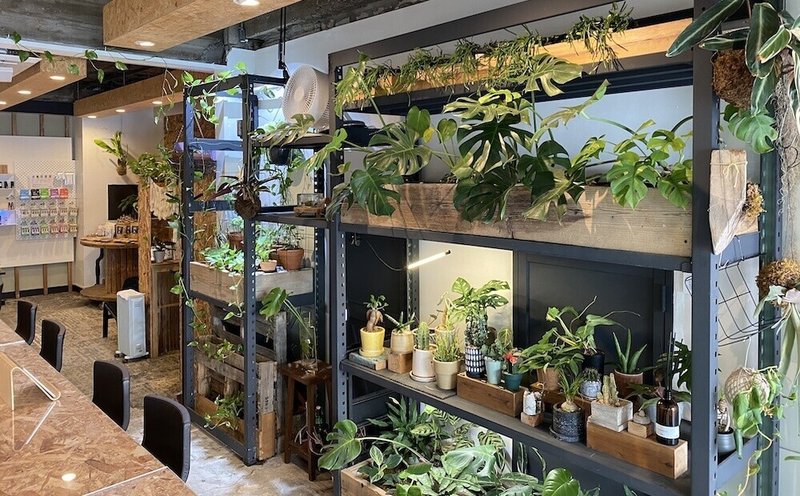 The store is conscious of a mysterious atmosphere that combines the cleanliness of an Apple Store and the miscellaneous feeling of a general store. Especially noticeable is the large counter and chairs. According to the president, he wanted to be able to sit while tasting, so he was particular about the comfort of the chair. The abundance of products handled is also top class in Japan! And above all, the original menu of all-you-can-try CBD for 1,000 yen (excluding tax) is attracting attention.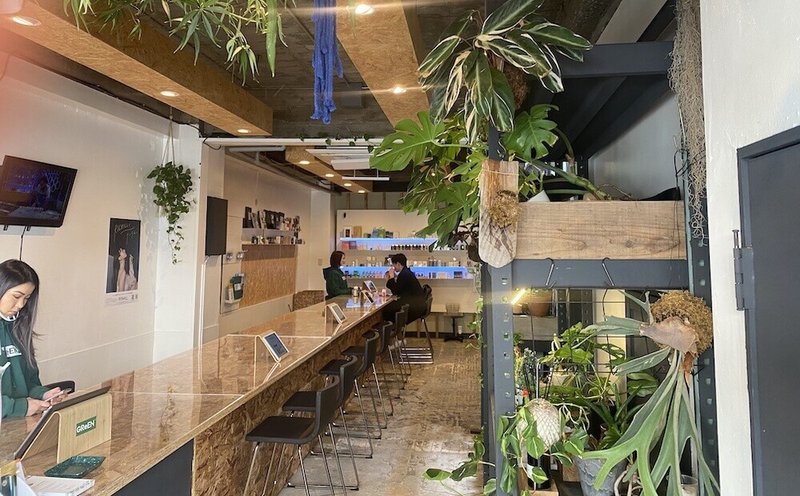 Unlimited CBD trial for 1,000 yen
There is a menu where you can try all the CBD products in the store for 1,000 yen (excluding tax). Or rather, there are two types of all-you-can-try menus, "a la carte" and "course".
A la carte is popular with those who have a specific CBD product or category they want to taste. For example, people who want to try various flavors and concentrations, mainly vape.
・A la carte menu table *Menu contents change every month.
We have 100 types of vapes!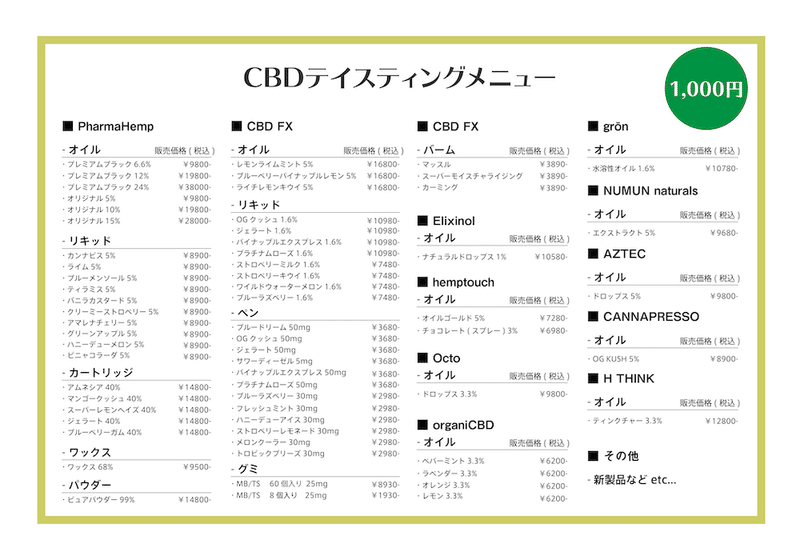 The "Course" is popular among CBD beginners. This is a completely original "CBD course" conceived by GReEN. If you experience this course, you will be able to understand the whole picture of CBD.
・CBD course
You can try products worth a total of 150,000 yen.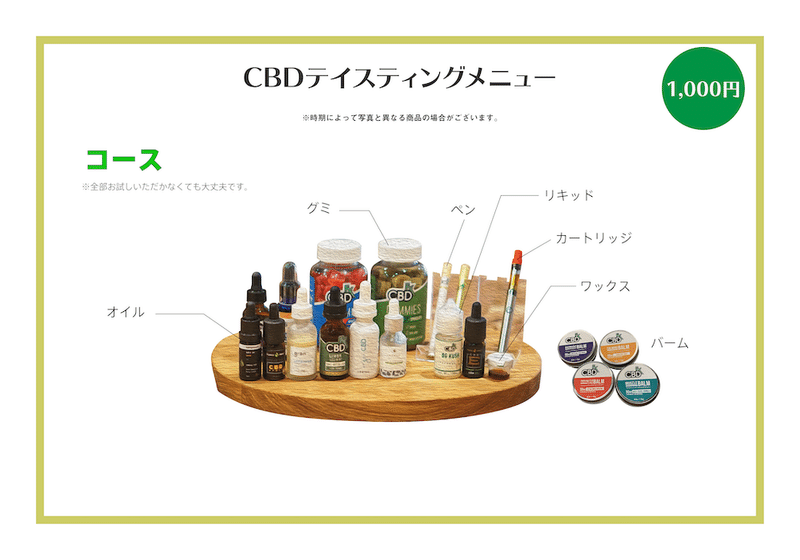 This time, we will introduce the "CBD course" of the all-you-can-eat CBD tasting menu.
CBD tasting course
After completing the reception at the entrance, the staff will guide you to your seat. Have them sit there and use a tablet to explain CBD and the type of CBD intake that suits them. By the way, here are the course notes.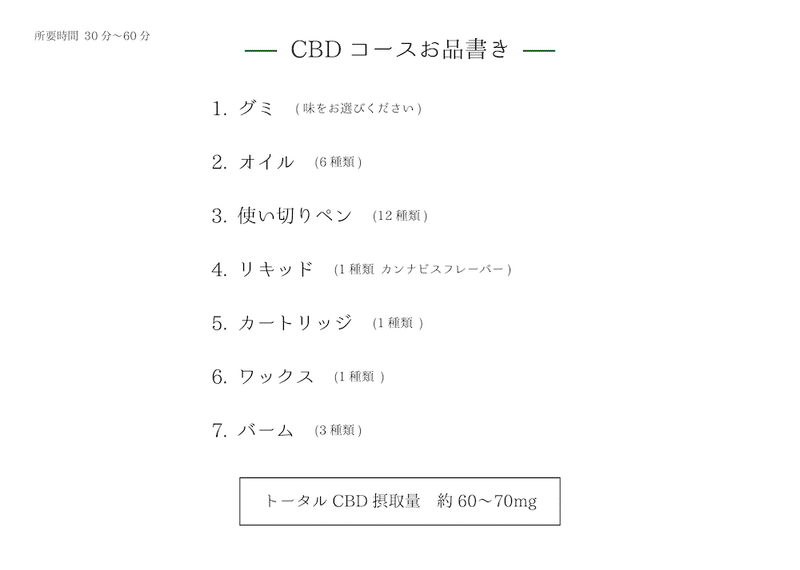 The course begins with CBDfx gummies containing 25mg of CBD per gummy.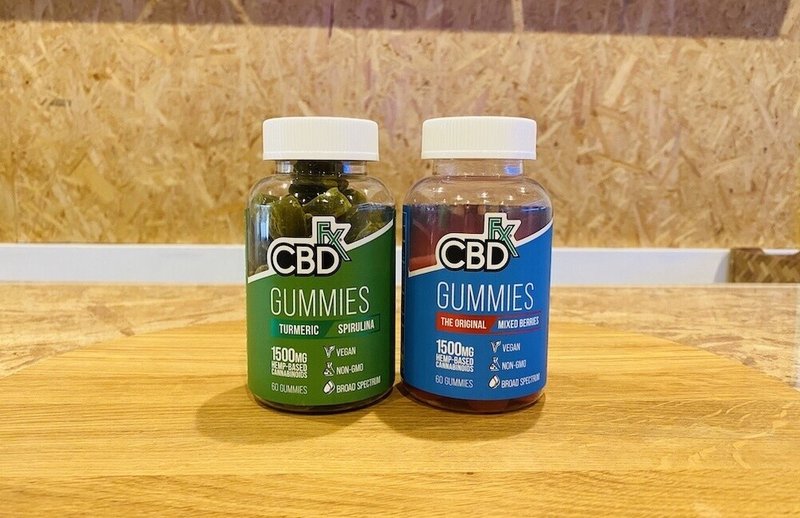 There are two types of flavors, so you can choose one you like and have them taste it. Both "mixed berries" and "turmeric/spirulina" are equally popular.

Next, the tincture oil will be tasted using a disposable spoon.
There are 6 types of oil in total. At this time, we will also explain how to manufacture CBD products and cannabinoids together.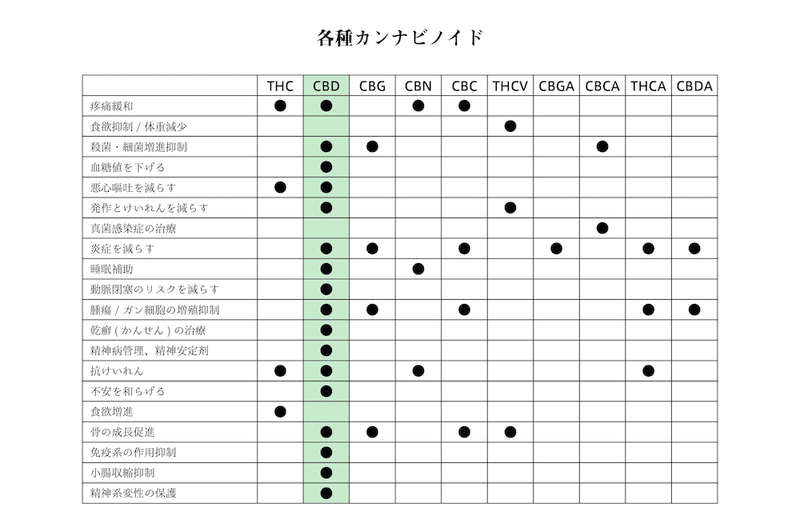 First, one type of full-spectrum oil and two types of broad-spectrum oil.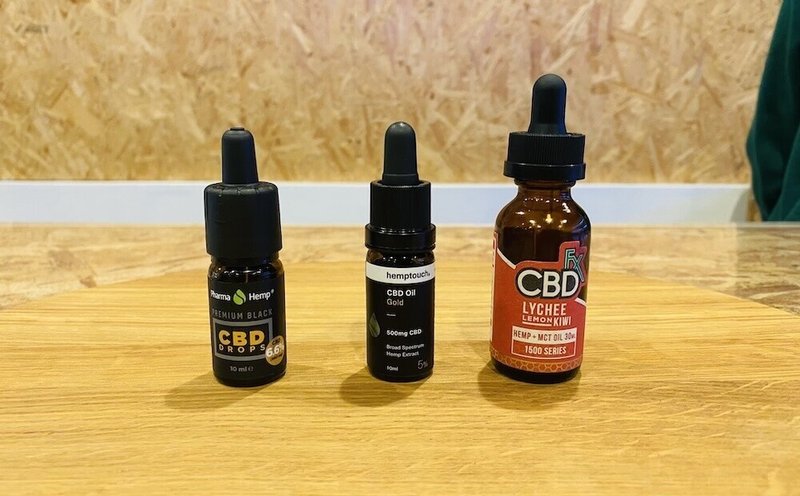 Next, there are 3 types of isolate oil.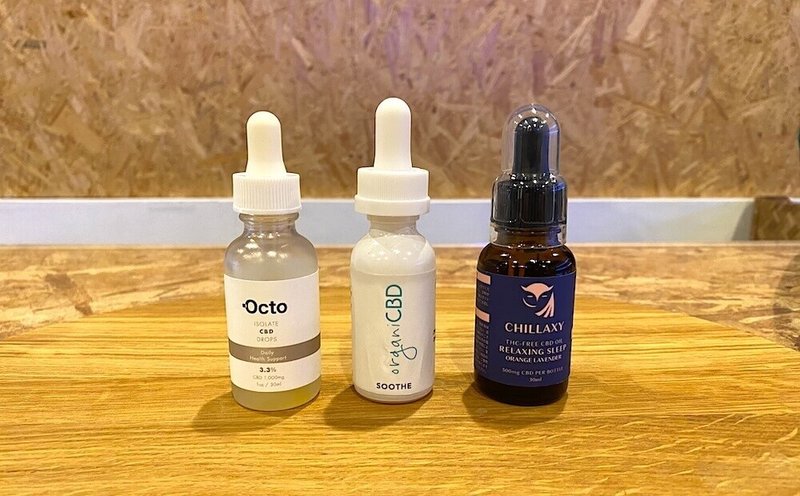 Don't worry, we will explain not only the taste but also the correct intake method.
After the oil is finished, the next step is suction. Start with a light disposable pen type.
Here we have a CBDfx pen.
There are many types, so it's easy to find your favorite. It is perfect for suction beginners to practice. People who have never smoked or smoked shisha before may be reluctant or afraid to take it into their lungs, so first practice with a light pen. Of course, it's okay to smoke all of it, but be careful because you won't know the taste.
If you are satisfied, next is the liquid. You will be asked to suck the liquid for suction using a special device. Of course, you can rest assured that the part where you put your mouth will be protected with a disposable mouthpiece.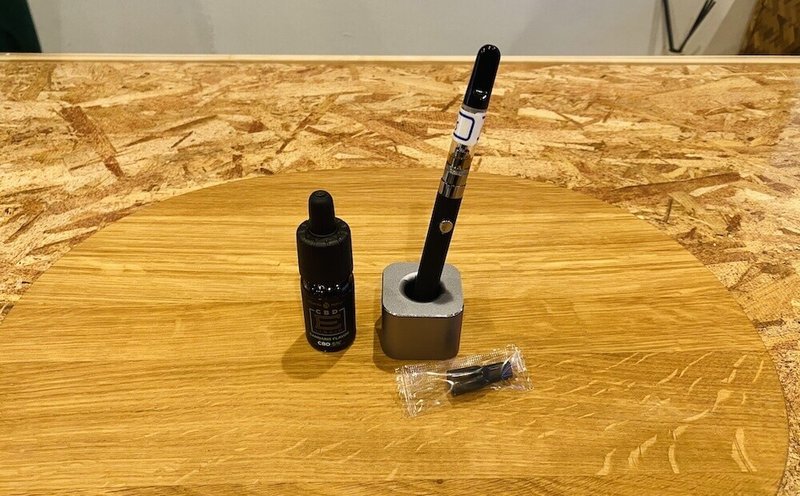 This is the classic PharmaHemp E-liquid "Cannabis Flavor". A liquid with a distinctive tea-like leafy feel.
Next is the cartridge, also PharmaHemp's 40% cartridge.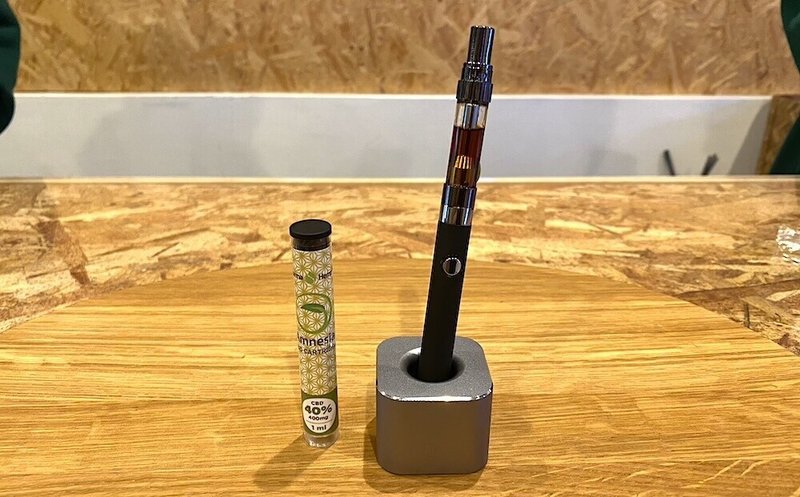 This is very irritating and 90% of people cough. The reason why we offer such a coughing product is that we want you to experience it so that you don't carelessly put your hands on a strong product! I don't understand the meaning of words like "Kick is strong!" On the other hand, some people are happy that they were looking for a product that is as tough as this. This product is very surprised by the feeling when you smoke, but you will also be surprised by the price. 1ml costs 14,800 yen, which is a very high-end product. Some people say, "This is all you can smoke..." and smoke a lot, but everyone who smokes a lot will cough.
Next is wax. This is OrganiCBD Dove Wax.
I was curious about wax, but many people didn't know what it was. It's going to be a lot of fun. Simply put, it is a "high concentration suction product". Many people are scared after coughing with a cartridge, but it is more mellow than a cartridge and less burden on the throat.
It is a very popular product for those who want to relax. It takes a little time and effort, but it is a deep-rooted popularity because of its authentic flavor and experience. We are especially popular with men.
And the last of the course is a balm. Have them try 3 different balms from CBDfx.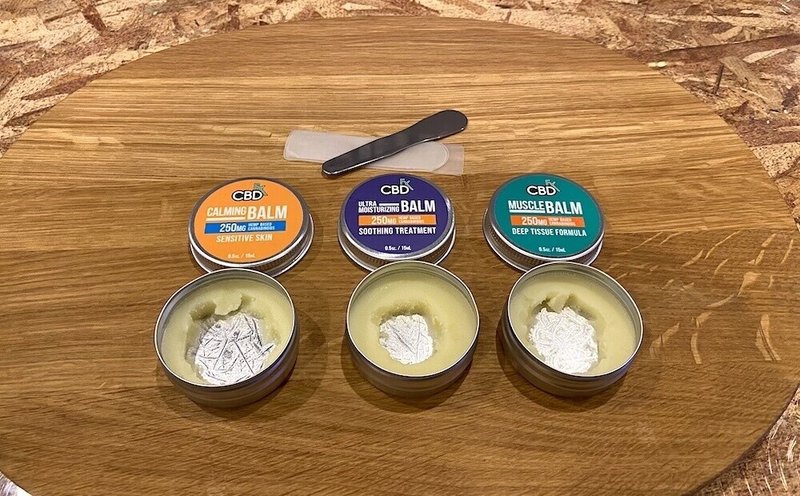 You can try them all, or you can try the one you care about. The balm is for topical use and is applied to areas of concern to experience CBD through the skin. I think you can find something that smells great and you like it. The price is reasonable at 3,890 yen, so many people buy two for themselves and one for gifts.
If you have tried so far, you have taken nearly 70mg of CBD and are in a slightly "overdone" state. But don't worry. Even if there are individual differences, it doesn't matter if you feel sick or can't go home because you're dizzy.
By the way, if you have all the products in the course, you will need 150,000 yen. Don't you think it's a good deal if you can try all you can for 1,000 yen?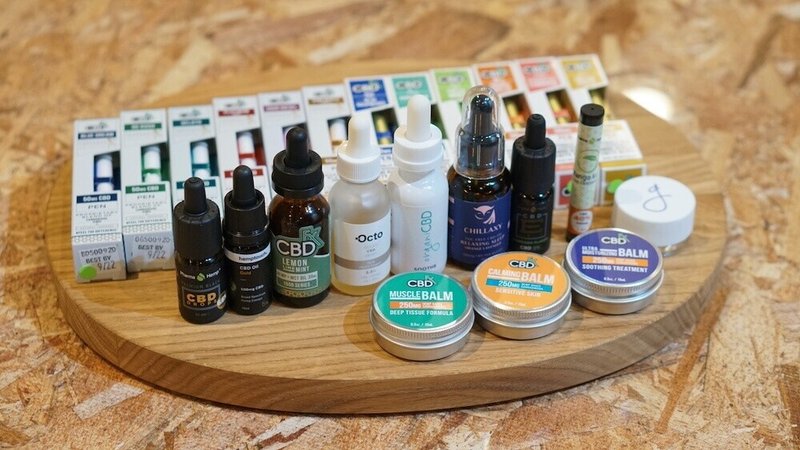 Relax with ingredients derived from hemp, and be healed by seeing healthy plants.
I wish you such a wonderful day.
Holidays are often fully booked.
When you go to the store, please make a reservation before you come.